5 Week Course on Huawei Mobile Services. (Webinar on 21 September 2021, 6PM Live only in Facebook group)
Exam Certificate provided.
Instructor-led Online Training.
Free Training and Exam to Students and Professors in 2021.
Focus on Practical Application Development and Publishing
Android Basics covered
Sample code and Assignment provided for Practice.
Free Content Library – Training Videos, Articles, Codelabs, Sample Applications.
Benefits:
Developer ID Creation and Apps Publishing in App Gallery is Free.
Publish articles and videos on Huawei Developer Forum and Training Platform
Industry readiness and can take up jobs in app development companies
Learn Advanced skills from industry Professionals
Profile building & networking within the community
Benefits for Trainers
Teachers can learn mobile app development and gain industry experience.
College or universities can adopt mobile app development as an elective subject.
Trained teachers can teach the subsequent batches of students.
Students can take exams and get certificates from the Huawei Academy website
Teachers have access to training material that they can utilize in teaching students
Teachers can customize or produce new videos or courses
Expert Teachers can join on Huawei Academy Portal.
Videos and courses can be published by teachers on Huawei Training Portal
Teachers can publish technical courses on Java, Python, ML to Huawei Training Portal.
Paid courses published on the Huawei portal can give 50% revenue share to teachers.
Prerequisites
Basic understanding of Java Programming Language
PC (4 GB ram or above) and Internet availability for students.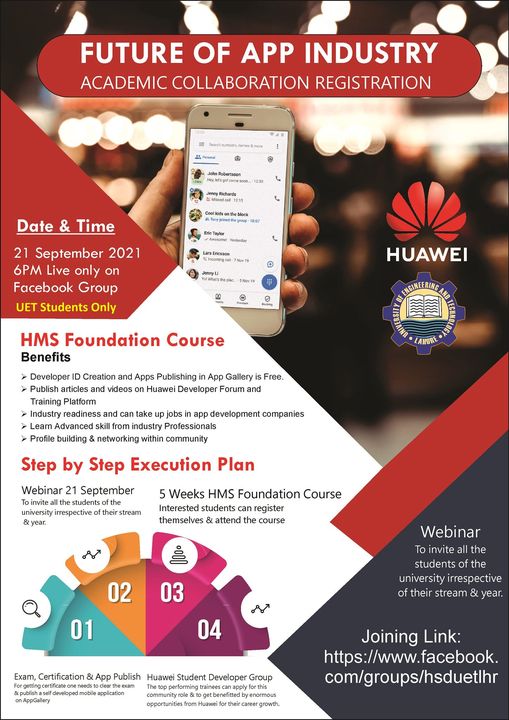 Dedicated Person In Charge from University for Communications.
Focal Person: Shahid Zulfiqar 03006804657
Manager: Mr. Kashif Bashir,