International Institute of Online Education (IIOE) in collaboration with IIOE Pakistan Center is organizing a Zoom Webinar themed ''Educating Future Engineers: Supporting Learning & Innovation in Higher Education"
This Thursday, IIOE invites Prof Jay Derrick from the Institute of Education(IOE), University College London (UCL) to guide us to evaluate the essence of 'engineering' from university to workplace, and provide concrete solutions that promote innovation in engineering teaching & learning.
How to train students into professional engineers?
How to embed 'innovation' in the engineering curriculum?
This webinar is the second session for the IIOE Engineering Education Special Series; to replay the first session, please visit [Webinar Replay] – A New Model to Engineering Education: the UCL Integrated Engineering Programme (IEP)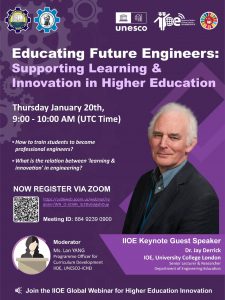 Webinar Information:
Topic: Educating Future Engineers- Supporting Learning & Innovation in Higher Education
Date: Thursday, January 20, 2022,
Time: 2:00 PM ~ 3:00 PM (PKT | GMT+5).
Zoom Link (Registration): https://us06web.zoom.us/webinar/register/WN_O-JiO4N_SJ2ttv6UgvhOug
Zoom Meeting ID: 884 9239 0900