Pakistani Higher Education Institutes (HEIs) sign partnership agreements with UNESCO's Centre for the futures of higher education at the IIOE National Centre, UET Lahore
University of Engineering & Technology (UET) Lahore, as the National Centre of International Institute of Online Education (IIOE) in Pakistan, organized an agreement signing ceremony with its partner universities in Pakistan to collaboratively facilitate the quality futures of digital transformation of higher education system to jointly pave the way to support Online and Blended Teaching and Learning (OBTL) by incorporating capacity building and competencies enhancement efforts for university teachers at national level. Besides, a certificate distribution ceremony for the IIOE courseware competition was also held to handover the awards among Pakistani winners. Vice-Chancellor UET Prof. Dr. Syed Mansoor Sarwar, Chief of IIOE management Centre and Director a.i of UNESCO-ICHEI Mr. LYU Feng, Chief of Asia-Pacific Programme Office of UNESCO-ICHEI Ms. Li Fan, Programme Specialist, UNESCO-ICHEI Mr. Hassan Adeel Shahzad, Director, Al-Khawarizmi Institute of Computer Science (KICS) Prof. Dr. Waqar Mahmood, Deans of all faculties from UET Lahore, IIOE competition winners, representatives from other partners HEIs (Higher Education Institutes) attended the event.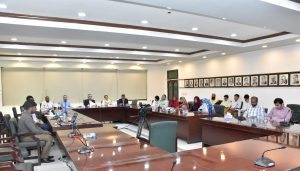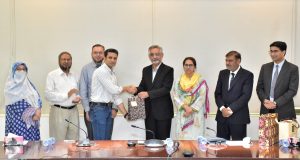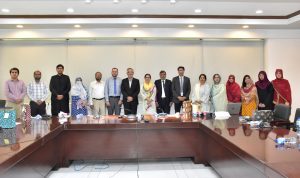 The event kicked off with the opening remarks of Vice-Chancellor Prof. Dr. Syed Mansoor Sarwar, Mr. LYU Feng; Chief of Asia Pacific Program Office Ms. Li Fan, and Director KICS Prof. Dr. Waqar Mahmood briefed on the introduction and plans for upcoming events of IIOE National Centre Pakistan situated at UET Lahore. Mr. Lyu Feng emphasized that IIOE National Centre for Pakistan, established at UET Lahore, will streamline the future work and coordination by implementing various upcoming projects with respect to teachers' capacity building and professional development, to expand quality educational resources and content, to strengthen domain-specific research and knowledge sharing, to promote blending teaching and learning, and to boost the poll of Pakistani experts of digitalized higher education at world arena.
Prof. Dr. Bushra Mirza, Vice Chancellor LCWU, Prof. Dr. Zubair Shaikh, President of Muhammad Ali Jinnah University, Karachi, Dr. Aisha Mehmood from the University of Education Lahore, signed the agreement representing their universities. Ms. Sadia Nawaz and Dr. Aisha Mahmood from the University of Education got the 1st prize whereas Dr. Muhammad Umair Ahmad Khan, and Dr. Sayyed Mohsin Ali Kazmi from UET Lahore got the 2nd prize in the IIOE courseware competition. Mr. Hassan Adeel Shehzad, Programme Specialist from UNESCO-ICHEI, presented the gifts to Dr. Syed Mansoor Sarwar, Vice-Chancellor UET Lahore and Dr. Waqar Mahmood, Director KICS, and received souvenir from respected Vice Chancellor and Director KICS.