After the success of our online training sessions, we are now offering both online and physical mode of training across 36 districts of Punjab! You can select any mode of training that suits you!
Apply now for free to earn a respectable livelihood from the ease of your home after and during 3 months of free training!
Link to apply: https://www.erozgaar.pitb.gov.pk/apply
Steps to apply:
Fill the form with your information and select your training mode PHYSICAL or ONLINE training. (Provide actual information because you'll be asked to get this information verified later on)
You can not change your course, mode of training and your center once you have selected it while applying
After signup, you'll receive an email and SMS containing your login details
Login through the candidate login link available in the email using the login ID and password details present in the same email
After successful login, You'll be asked to attempt an MCQs based online test consisting of 30 questions in 30 minutes
(Make sure you have stable internet and power backup because the failure of power/internet may cause blockage to test access)
After signup, You will have 72 hours to give your online test. Otherwise, your application will be considered null and void.
Eligibility Criteria:
Punjab Domicile
Maximum age: 35 years
Education: At least 16 years
Employment Status: Unemployed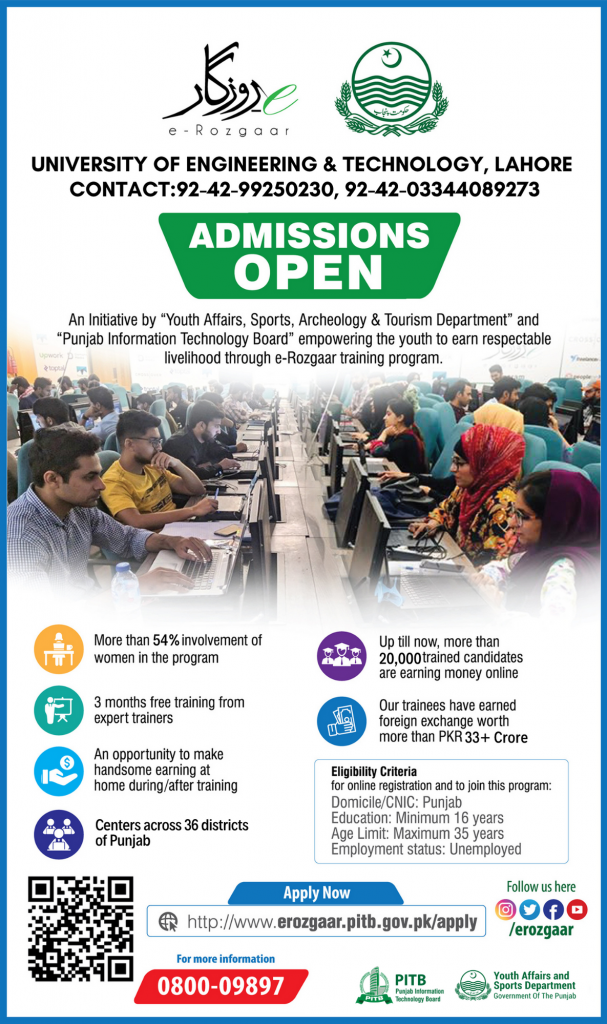 The 3 domains that candidates can select one from are:
Technical:
Web Development Basics
HTML & CSS
SQL
PHP & Mysql (Dynamic Websites)
Building Websites Using WordPress
Custom Content Type in WordPress
WordPress Theme and Plugin Development
Content Marketing & Advertising that include:
Content Marketing
Marketing Funnels
Creating Engaging Content
WordPress for Blogging
Lead Generation
Distribute Content
On-Page SEO and Back-linking
Creative Design
Logo Design
Corporate Identity Kit
Adobe Photoshop
Adobe Illustrator
Adobe InDesign