In a global effort to raise awareness regarding Breast Cancer, Zimal Girls Society UET Lahore observed this month as PINKTOBER. The month-long campaign allowed the issue to be highlighted as a top health priority, with the disease affecting many women in their lives.
As a part of PINKTOBER, Zimal UET Lahore organized PINK RIBBON DAY 2022 on October 25, 2022, at the University. The event comprised an Awareness Seminar and a Medical Camp.
Dr. Ayesha Anwar was the worthy speaker for the awareness seminar. She is a specialist consultant at Chugtai Lab Lahore. The seminar started at 11 30 AM and continued till 12 30 PM. Dr. Rehana Sharif, faculty advisor of Zimal UET Lahore, and Dr. Farhat Yasmen, focal person pink ribbon awareness campaign also joined the event. A number of honorable professors also joined Zimal UET Lahore in its efforts. Girls from different departments availed this knowledge-raising opportunity too. The seminar was dedicated to providing details about the symptoms and treatment of breast cancer. Some of the most valuable topics covered during the seminar included preventive measures for breast cancer, cures for each stage of this cancer, the importance of self-examination, and ways to do self-examination.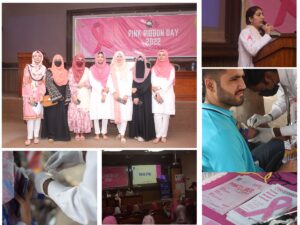 The seminar overall was a success and resulted in imparting valuable knowledge to the attendees. Brochures and pamphlets were distributed among the attendees along with the pink ribbon defining Zimal's motive.
Along with the awareness seminar, a medical camp in collaboration with UET Health Clinic and Chugtai Lab Lahore was organized that offered:
1. Blood Screening
2. Glucose Test
3. Mammogram & Vitamin D test with 50% discount
4. 35% discount on Hormone Profile
5. 30% discount on other tests in Chughtai Lab upon registering
A large number of students availed this opportunity. Experienced personnel from Chughtai Lab Lahore conducted these tests professionally making this medical camp a success