Punjab affiliate American Society of Women engineers in collaboration with Pakistan Engineering Council (PEC) and UET Lahore hosted a continuing professional development (CPD) workshop on "Development Skills for Early Career Engineers" at the University of Engineering & Technology, Lahore. The inaugural ceremony of the session was attended by more than 300 participants including more than 200 women engineers. Chairman PEC Engr. Muhammad Najeeb Haroon was the chief guest who encouraged all engineers in general, and female engineers in particular to play their respective roles in the development of the country. He was quoted as saying that "the recent floods have wreaked havoc with the country and its people. Now it is up to the engineers to rebuild the nation. Only engineers can play the pivotal role in uplift of the nation and rebuilding of the country. He encouraged the formulation of women's society and holding of such events that help engineers to polish their technical skills."
The guest of hour and host of the workshop Prof. Dr. Mansoor Sarwar remembered the contribution of Women Engineers at the UET and presented current statistics of the Women representation at the university. He emphasised on the requirements of the technical knowledge and skill development for students and early career engineers. He appreciated Prof. Dr. Saima Yasin, Chairperson Chemical Engineering Department and President Society of Women Engineers for standing up to his EDI initiatives. He also said that women have shown perseverance and determination in all their roles. It is the time that they also take the lead in mainly male dominant STEM field, for which he will continue supporting all such initiatives.
President Punjab Affiliate SWE Prof. Dr. Saima Yasin explained that women have played their active role in all fields in all eras. Starting from Hazrat Khadija R.A and Hazrat Ayesha R.A and recent greats including Marie Curie and several others, there is no such field in which women have not rendered their services. She emphasised on taking the right step at the right time with clear mind for social and economic betterness. She thanked all the participants in particular the Chief Guest and Guest of honour. SHe also thanked Engr. Shaela Safwan for delivering CPD lecture on development skills for Early Career Engineers.
The general secretary of SWE and SDO GOR I, Saba Iqbal carried out the task of Stage secretary. She reflected that this event is another link in the chain of equity, empowerment and diversity for women engineers in the field of engineering.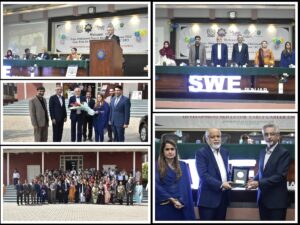 Prof. Dr. Kanwal Ameen VC University of Home Economics gave her utmost appreciation for such a massive event. She explained that the most important thing is to seek excellence in any field. Morover, she also said that in order to gain success, soft skills are very important for every individual. She urged all participants to reach their utmost potential. She also explained that we should also appreciate the role of men who encourage and appreciate their women to strive and reach their full potential.
Miss Fatima Sultan, who has been serving at a Director Finance of Creative Group explained that women are excelling in STEM field also. Previously these were considered only male oriented fields, but now females are also taking the lead and proving their mettle.
While concluding the ceremony, Dean Faculty of Chemical, Polymer and Process Engineering and General Body member PEC thanked all participants. He added that women have always sacrificed for the male members of their family. Whether it be a sacrifice of career, education or any other, she never hesitated. It is the time for male members of society to support them in excelling in STEM fields also.