Industrial Partnership Projects (IPP), in collaboration with Engineers for Community Welfare (ECW) of Pakistan, Al-Khawarizmi Institute of Computer Sciences (KICS), University of Engineering & Technology Lahore Pakistan, and Akhuwat Foundation Pakistan hosted a competition for young entrepreneurs "New Venture Contest" (NVC) from November 1, 2022 till May 2, 2023.
It was a business ideas competition, inspiring young entrepreneurs to develop their business dreams to make them real. All entrepreneurs, including graduate and undergraduate students, joined to promote their proposals and compete for up to $30,000 interest-free loans for starting their business.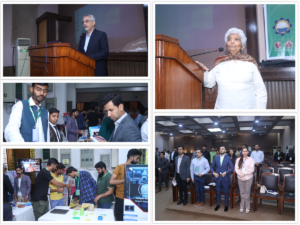 There were 3 rounds of the competition. In round 1, the participants submitted a 2-page summary of their business concept online. In the semifinal round, the teams submitted a complete business plan, cap table, verification of establishment of a legal entity, and tax forms. The semi-finalists also submitted video recordings for pitching their ideas to judges. After analyzing the ideas, the judges selected 9 teams for the final round.
The multiple round competition came to an end at UET, Lahore following the competition finals and award ceremony where the finalists' teams presented their ideas in a slideshow format to a panel of expert judges comprises of more than 30 industry leaders.
The award ceremony was held at the University of Engineering & Technology Lahore's main campus on 2nd May 2023. The ceremony was graced with the presence of Dr. Amjad Saqib, Founder and Executive Director of Akhuwat Foundation, as a Chief Guest. Dr. Arfa Syeda Zahra, Prof. Dr. Syed Mansoor Sarwar, Vice-Chancellor UET, Dr. Waqar Mahmood, Director KICS, Prof. Dr. Nasir Malik, Prof. Dr. Muhammad Tahir, Mr. Hammad Khalique, Mr. Niaz Siddiqui, Mr. Humayun Javed Khan, Mr. Irfan Babar, Mr. Abid Wazir, Mr. Ayub Ghauri, and Mr. Mudassir Malik were invited as distinguished guests.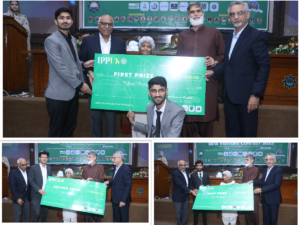 Director KICS, Dr. Waqar Mahmood welcomed the honorable guests, judges, & participants and also appreciated the organizers for organizing such a successful competition. Dr. Nomaan Mufti from IPP-US briefed about the new venture contest and highlighted the efforts to organize the event. He also thanked the sponsors and organizations that helped to put the event together. The founder of Akhuwat Foundation, Dr. Amjad Saqib congratulated the organizers especially Dr. Nomaan Mufti to find creative and innovative people.
After the guests' speeches, the results of the competition were announced by Dr. Nomaan Mufti. Chief Guest of the ceremony, Dr. Amjad Saqib along with the distinguished guests distributed the cash prizes to the winners for the ideas. The awards ceremony ended up with the shield's distribution to the guests, judges, and organizers.