Looking to enhance your skills and boost your career prospects? Look no further! Join the UET Summer Boot Camp, in collaboration with the industry, at the prestigious UET campus and online. Our comprehensive courses will equip you with in-demand skills, and upon successful completion, you'll receive a certificate issued by UET. Plus, potential employers will conduct job tests for course graduates. Don't miss out, register before the deadline on 19th June 2023!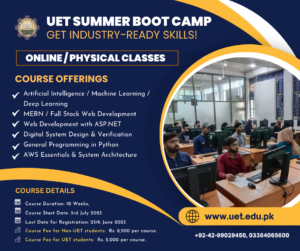 Course Offerings:
Artificial Intelligence / Machine Learning / Deep Learning: Explore the exciting field of AI and Machine Learning, and unleash the potential of intelligent systems in various domains.
MERN / Full Stack Web Development: Dive into the world of web development and master the MERN stack, gaining expertise in front-end and back-end technologies.
Web Development with ASP.NET: Discover the power of ASP.NET and develop dynamic and interactive web applications with ease.
Digital System Design & Verification: Learn the fundamentals of designing and verifying digital systems, giving you an edge in the fast-paced technology industry. (Note: On-line option is not available for this course).
Python: Embrace the versatile and powerful Python programming language. From data analysis to web development, Python's applications are endless. Gain proficiency in Python and unlock a wide range of career opportunities.
AWS Essentials & System Architecture: Learn to design and deploy scalable, secure, and highly available systems on the Amazon Web Services (AWS) platform. Acquire in-demand cloud computing skills and become an expert in AWS system architecture.
Note: Each course will include one week of training on Soft Skills and once week on Entrepreneurship.
Delivery Options:
Our courses are designed to be flexible, allowing you to choose your preferred mode of learning. Attend classes at the UET campus, immersing yourself in a vibrant academic environment, or opt for online learning from the comfort of your own home. The choice is yours!
Eligibility Criteria:
Qualification: Engineering/Sciences/Social Sciences graduates/students
On Campus Hostel Facility is not available.
Course Details:
Course Duration: 10 Weeks,

Lecture + Hands-on frequency: Twice a week
Lecture + Hands-on duration: 3 – 4 Hours

Course Start Date: 3rd July 2023

Course Fee: Rs. 8,500

Course Fee: Rs 6,000 for UET Students
Don't miss this incredible opportunity to upgrade your skills and pave the way for a successful future. Register today at uet.edu/bootcamp and secure your spot in the UET Summer Boot Camp! For further details, visit:
Contact Info:
For general Inquiries, please contact Qazi M. Qandeer, Mobile 03364065600
For Fee-related queries, please contact Mr. Aqeel Babar
Email address for fee slip: [email protected]