Group discipline produces a unified effort towards a common goal.
Photomontage is an annual tradition of UMS celebrated to give warm welcome to freshers. It includes gathering students together and picturing them as a wonderful memory. It's a great platform for students to meet and explore each other and gain confidence in an entirely new atmosphere.
As UET is celebrating its 100 years of Academic Excellence, UET Media Society also took part to celebrate this memorable eve. This time Theme of Photomontage will be "100 years academic excellence of UET Lahore". All the students of UET LAHORE (18 19 20 21) will be gathered symmetrically according to this theme.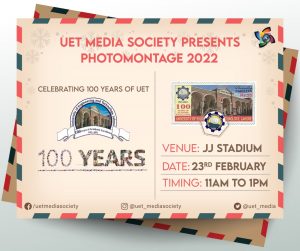 Stay Connected for more!
Venue: Junaid Jamshed Stadium
Date: 23rd February 2022
Timing: 11:00 am onwards